Questions?

We're glad you asked.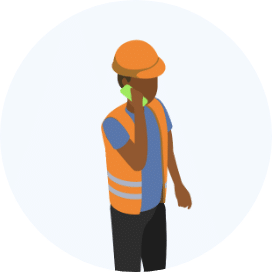 Check with your provider that you have roaming enabled on your SIM. Ask about the roaming charges in the country you're visiting and check that your Ofcom spend cap is sufficient for your trip. Need your voicemail abroad? Make sure you set up and know your voicemail PIN before travelling as this can't be reset while abroad.
Ask the employee to log out of their iCloud, Google, or Samsung account and then make sure they restore the handset back to factory settings. Just logging out of iCloud etc. isn't enough if there's a passcode on the device.
An eSIM can be added to a device without the need for a physical plastic SIM card. It means you can have two mobile numbers on your device, which is great if you want to separate work and personal use.
Check your device is eSIM-compatible and that the eSIM you're adding is live: in Settings select Mobile Data, then Add eSIM, scan the QR code on the eSIM, and follow the on-screen prompts to finish setting up.
The apps that commonly use the most mobile data are audio or video streaming apps. These include Netflix, YouTube, Spotify, Instagram, TikTok, and Facebook. Business-related apps like Outlook and Maps use minimal data. You can see which apps are using data by navigating to Mobile Data via Settings, and then selecting Data Usage.
No, every 'Unlimited' tariff has a fair use policy to protect the networks. These fair use policies range from 500GB up to around 750GB, depending on the network and tariff.
Reboot your phone when you arrive at your destination. This can help refresh the network settings and establish a connection.
Check data roaming is switched on by opening Settings on your phone and navigating to the cellular, data or network settings. This allows your phone to connect to international networks and access data services.
Make sure your phone's time and date settings — are correctly updated. This helps to synchronise with the local network and prevents any potential connectivity issues.
Still not connecting? If your phone isn't automatically connecting to a network or you're experiencing connectivity problems, you can manually select a network via your phone settings.
Calls to Premium texts (competition lines), 084xx, 087xx, MMS messages, international calls, and roaming in certain destinations are not included.
Using a device with internet access, go to www.icloud.com and enter their Apple ID and password, select Find My Devices, and then the device (eg 'John's iPhone'). It may take a few minutes, but the device location will show on the map. From there you can select Play Sound, put the device into Lost Mode, or Erase iPhone. Phone your SIM provider if you can't find the device.
To help control your spend on out-of-bundle charges Ofcom introduced the ability to apply a spend cap to your monthly tariff. Any chargeable usage outside your monthly allowance or any bolt-on allowance will count towards your spend cap. If you choose to set one, please be aware that the number will automatically be barred once the limit has been reached.
If you hit your spend cap and you need to continue using your device, contact your SIM provider and they'll lift the cap for the remainder of the month.
We see a lot of avoidable device damage and breakages, which is why we always recommend a good quality rugged case and a screen protector. They're just a fraction of the expense of replacing the device or screen. And don't forget the additional costs if a member of staff can't work on-the-go because their device has broken.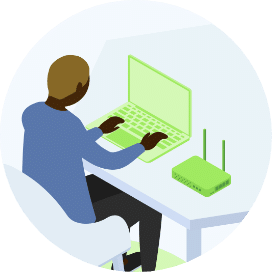 Internet connectivity & broadband
Yes, we always recommend a managed router for our business internet services. They allow us remote access for troubleshooting, changing settings, and performing vital firmware updates.
A managed router is essential with ethernet services — it will automatically update the network if there are problems with your internet service. It also works as a demarcation point so you can quickly identify problems on your network.
Yes, we can easily move the majority of business internet services.
We recommend a 4G/5G backup, but it does depend on the data speeds available on site. Often in today's well-insulated buildings or comms rooms mobile network data speeds can be too slow for users to continue working. It's best to do a full survey before ordering any service that relies on mobile data speeds.
For the majority of our services an Openreach engineer needs to attend the site or look at the problem. Depending on the support level you select, they would usually come the next working day. But, it may take them longer to fix the problem — with a major service outage, for example, it can take several days. With an ethernet circuit, however, you benefit from a eight-hour fixed service level agreement.
With the speed of technological change, as well as shifting bandwidth pricing, we recommend that you sign as short a contract as you can. The maximum length of contract you should consider is 3 years. Any provider offering longer contracts isn't acting in your best interests.
Most business ethernet services are provided by BT Wholesale, TalkTalk Business, Virgin Media, City Fibre, Virtual One, Exponential E, or Vodafone. At Peak Telecom we have access to all these providers, and we'll recommend the most suitable one depending on your location, requirements, and pricing.
In the majority of cases, re-booting equipment is the best way to resolve problems. But it's essential to know which equipment you're going to reboot, how to do it, and the amount of time to leave it powered down. For all standard broadband services we recommend a 15 minute power down. This allows for all connections to drop, then when the device is powered on, a new set of connections is established.
Yes, for office environments and commercial buildings. We understand how essential good Wi-Fi coverage and management is for businesses. Despite its simplicity, badly thought out Wi-Fi can cause frustration, reduced productivity, and even a security risk to your network. Which is why we'll provide all the access points your business needs to stay online.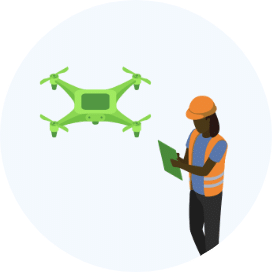 Often, the network that's recommended for your SIM cards will depend on the locations you operate in. But we now offer multi-network SIM cards that allow you to connect to any of the UK mobile networks. These ensure you always have the best connection available, wherever you are.
A public APN is a shared network that's accessible to anyone with a SIM card from the same mobile network operator. A private APN is a dedicated network that's only accessible to authorised users. Because it's isolated from the public internet, it's more secure than a public APN.
We can remove the public APN from our IoT SIM cards so they only work on the private APN. This boosts security, as the SIM only works with the private APN details.
Yes, our IoT SIMs are available with dedicated private APNs, VPNs and fixed public IP addresses.
Although IoT SIMs are primarily designed for data usage, we can offer them with voice and SMS packages if needed.
There are lots of factors to consider when comparing IoT and MBB SIMs, but the pricing is broadly similar. Tell us your usage scenario and we'll find you the most cost-effective solution.
Yes, we offer unlimited data IoT SIMs that are ideal for data-hungry applications like monitored CCTV.
A static IP address is an IP address that doesn't change over time. Typical use cases for a static IP are CCTV and remote desktop.
Yes, we can aggregate your SIMs' data allowances to create one big pool of data. So you get far more flexibility compared to a single SIM data tariff.
We can give you a login to our SIM portal. But we recommend leaving the management up to us — it's what we're here for!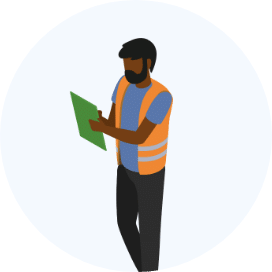 Our MDM software allows us to remotely locate devices in real time, if they're powered on and have an internet connection. Sometimes a device will have been switched off, or has run out of battery. In this case, we can see its last known location before it went offline.
A good case is a must-have for any device. Whether that's an ultra-rugged case for fleet use, or a stylish leather case for your MD, they're vital to ensure your device has a long life. Charging stations are especially popular in the fleet industry as you can charge multiple devices in one location using one plug socket.
Our main MDM offering is SOTI MobiControl, which we think is the most feature-rich and customisable solution out there. We also offer Microsoft Intune and Samsung Knox Manage.
Yes, this is one of our most-used features, and is great for providing an identity for your fleet of devices. As well as creating a unified look, we've seen countless lost devices returned to their companies after a passer-by recognised their logo.
Samsung provide the highest levels of compatibility across all our MDM platforms, as well as having an excellent product portfolio that ranges from budget tablets to flagship mobile phones.
Each of our managed devices comes with a unique asset number. So it's quick and easy to identify and support each device.
Yes, as long as they meet our compatibility requirements. But we always recommend purchasing your device through us at Peak Telecom so you can benefit from our competitive pricing and superior customer support.
Generally, it will lower your data usage. The amount of a reduction you get will depend on the level of restrictions that are placed on your devices. Most of our clients go for full restrictions, which means we strip any non-work related content and apps from the device. So you get peace of mind that data isn't being gobbled up in the background.
All of our MDM offerings allow us to add and remove apps to suit your needs.
It's a suite of enterprise mobility management (EMM) solutions that help businesses secure and manage their mobile devices. While it's often seen as simply a security solution, Knox has evolved over the past decade to become a more comprehensive platform that also offers features for device management, application management, and data protection.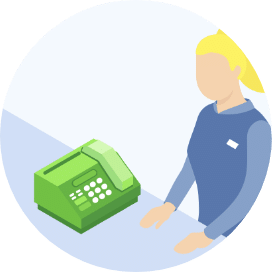 This depends on the nature of your business and the calls you take. Speak to one of our experts for advice on what's best for your specific needs.
Yes, we can transfer over the majority of hosted systems, including BT, NFON and Gamma Collaborate.
Our technical team have evaluated the current hosted telephone systems from BT, MS Teams, Cisco, Gamma, 3CX, NFON, Xelion, and HiHi. And we've chosen 8×8 as the standout winner in all areas.
As standard, calls on 01, 02, 03, and UK mobiles are free. You can then upgrade to include unlimited landline calls to the United States, Canada, Australia, France, Germany, Italy, Ireland, Netherlands, New Zealand, Puerto Rico, Spain, Sweden, and Switzerland. There are licences that include calls in up to 47 international destinations.
We would always recommend a headset and the PC app for users. You'll benefit from all the features like screen sharing, video meetings, and instant messaging. Plus you can easily access company contacts.
We have access to voiceover artists and 100s of royalty-free tracks so you can choose the ideal music for your business.
Yes, as an environmentally-friendly company we always try to re-use handsets and headsets before replacing them.
Our standard contracts are 24 months. Shorter contracts aren't viable due to the complexity of setting up and learning to use a hosted telephone system.
Yes, the technology is available, but we don't recommend it. The adapters are prone to issues and make networks vulnerable to security breaches.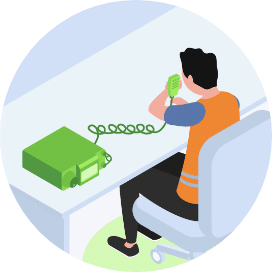 While Motorola Wave does support some of the MOTOBRO range of devices, these are only standard licenced-based products and don't have unlimited range.
Our Motorola Wave product comes equipped with a Peak Telecom un-steered, 4-network SIM. This delivers the ultimate connectivity to ensure mission-critical communication success.
The range of standard licensed-based radios is quoted at 4-5 km, but this depends hugely on the topography and structure of the environment you'll be using the radios in. Motorola Wave radios will work across Europe.
No, you only need an Ofcom licence if you want to use standard licence-based radios.
Wave PTX Dispatch is an online portal that allows a desk-based operator to instantly communicate with field personnel or groups. It displays the location of all devices and has integrated messaging, and customisation and user management features.
The radios have incredible noise-cancelling microphones and speakers, so communication is always loud and clear, regardless of background noise. There are also several headset options available.
In the Motorola Wave portal, either create a new group or move straight to Users. Then find the device you want to add and select Manage. Tick the Talkgroup you would like to assign the radio to, and click Save. The update is pushed to the device over the air.
Yes, we have our own leasing facility. You can pay a single monthly price that includes the radios and rentals, all on one bill.
An Ofcom radio licence is £75 for five years. At Peak Telecom we'll organise this for you.
Yes, there are various accessories for Motorola Wave devices that ensure your drivers can safely and legally use the radios in a vehicle.
We supply standard Motorola radios and the Kirisun budget range.